Dr. Miftah Ismail
Special Assistant to the Prime Minister and Chairman Prime Minister's Office, Board of Investment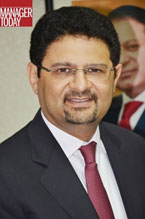 Dr. Miftah Ismail holds a PhD in Public Finance and Political Economy from the Wharton School of Business, University of Pennsylvania.

A professional economist, he worked at the IMF before coming back to Pakistan. He has a proven track record of leading some of the exciting names in the Country including Chairman- Suit Northern Gas Company Pakistan, Director  Pakistan International Airlines Corporation (2013 – present), Vice Chairman  Punjab Board of Investment and Trade – 2012, CEO  Ismail Industries Ltd, and Candyland Confectionery (1993 – present) and CEO Astroplastics Pvt. Limited.
He is the President of Karachi American School, and is a member of the Advisory Committee of the Institute of Business Administration and has also been a visiting faculty member at the I.B.A.
Back