Mr. Muhammad Ishaq Dar
Federal Minister for Finance Revenue Economic Affairs, Statistics and Privatization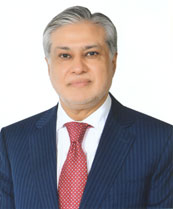 Senator Mohammad Ishaq Dar is a chartered accountant, financial-cum-economic expert and the incumbent federal finance minister of Pakistan.

Ishaq Dar completed his education at Government College), Lahore (now Government College University) and Hailey College of Commerce, Punjab University, Lahore (1966–69). He was awarded two gold medals after obtaining the first position in Bachelor of Commerce (honours) at the University of Punjab.

After completing his higher education, Dar trained as a chartered accountant.  He earned a fellowship membership (FCA) with ICAEW in 1980 and with ICAP in 1984.

He served as the commerce minister, finance minister (thrice) and also as the leader of the opposition in the Senate of Pakistan. He was pivotal in negotiating an IMF rescue package to meet an economic crisis triggered by sanctions imposed on Pakistan after the nuclear tests in May 1998.

Dar has served as a parliamentarian for the last 20 years.  He was elected as a member of the National Assembly twice (1993–96 and 1997–99) and was also elected as a senator for three consecutive years subsequently.

Dar has served in many international financial organisations, including World Bank, Asian Development Bank and Islamic Development Bank. He was also a financial advisor to a member of the ruling family of the United Arab Emirates.

Dar is also known as a philanthropist and reportedly runs two charitable organisations –Hajveri Trust and Hajveri Foundation. These two trusts work to provide shelter to the homeless, help financially deprived students and arrange mass marriage events for needy couples.
Back