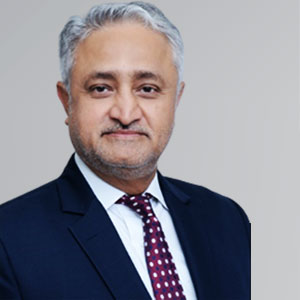 SYED NAJMUL HUSSAIN
Title: Council Member
Syed Najmul Hussain is a Fellow Member of the Institute of Chartered Accountants of Pakistan (ICAP), with more than 29 years post qualification experience in Audit, Assurance and Advisory Services with KPMG Taseer Hadi & Co., Chartered Accountants.
He is currently serving second term of four years as elected member of the Council of the Institute of Chartered Accountants of Pakistan (ICAP).
He remained member of the Shariah Advisory Committee of the State Bank of Pakistan.
He is Deputy Chairman of Accounting Standards Board of Accounting and Auditing Organization for Islamic Financial Institutions (AAOIFI), Bahrain. He is member of Accounting Standard Board (ASB) of ICAP and is Chairman of Working Group on "Accounting and Auditing Standards for Interest Free Mode of Finance & Investment".
He has served as the Chairman of Education and Training Committee (ETCOM) of ICAP and Digital Accounting and Assurance Board (DAAB) of ICAP and as member of various other committees including Examination Committee and Investigation Committee.
He also served two terms as elected member of the Southern Regional Committee of ICAP and served as its Chairman for two years.
He is also serving as Technical Advisor on the Board of International Federation of Accountants (IFAC).