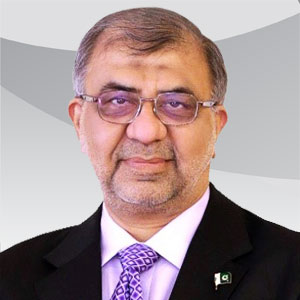 ASHFAQ YOUSUF TOLA
Title: Vice President
Mr. Tola is a fellow member of the Institute of Chartered Accountants of Pakistan and Institute of Cost and Management Accountants of Pakistan. He is Council Member since 2017 and headed Fiscal Laws Committee, Economic Advisory & Government Relationship Committee and Overseas Coordination Committee. He is also a life member of SAARC Chamber of Commerce and Industry. He is Technical Advisor on the Board of the South Asian Federation of Accountants (SAFA) and also chairs the Anti-Money Laundering Taskforce of SAFA. He is an accomplished professional who has experience of over 25 years in diversified areas such as financial and forensic auditing, management consultancy, tax advisory and corporate structuring. Moreover, Mr. Tola has a keen interest in matters pertaining to the Economy of Pakistan, which is portrayed by his contributions towards policymaking, reflected through various memberships of technocratic governmental bodies, such as the Tax Reforms Implementation Committee, and the Privatization Commission of Pakistan.
He has tax knowledge of more than 40 jurisdictions around the globe. He also co-authored report with Dr. Hafeez Pasha on the taxation system of province of Sindh. One of his esteemed contribution towards policymaking with regards to the taxation system of Pakistan includes a presentation of his compendious study on the "Single Stage Sales Tax" regime to International Monetary Fund (IMF) on behalf of the Government of Pakistan.
Mr. Tola is also an avid contributor towards social development of the society. The "TAX PAK" Monthly Newsletter of Tola Associates, his tax advisory firm, is just one of the few examples of his contributions. The monthly newsletter, apprises the world-at-large, about major developments in taxation laws every month. Mr. Tola also held position of President Karachi Club for 4 years.