Mr. Ather Saleem
Member National Council and Chairman CPD Committee of ICMA Pakistan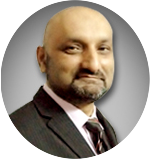 Mr. Ather Saleem, Member National Council and Chairman CPD Committee of ICMA Pakistan, is a Fellow Cost and Management Accountant. He also possesses degree in law. He has around 25 years of practical experience. He has worked with accounting firms, telecom sector and currently working for FFBL who are in business of Fertilizer, Dairy, Power and Export of meat.
During his career he has served on as Departmental head, Company Secretary, Chief Financial Officer, Member of the Board and currently also member of National Council of Institute of Cost and Management Accountants of Pakistan.
This experience exposed him to working of management teams from Board of Directors, their sub-committees to top management teams. Thus enabling him to better understand how accounting data is interpreted, how this data results in management decision in day to business, mergers and acquisitions.
Back