Ms. Hajerah Ahsan Saleem
Crescent Steel and Allied Products Limited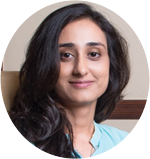 Hajerah joined the Company in 2012 and is currently serving as the Group Head of Corporate Affairs, and as the Business Unit Head of the Investments and Infrastructure Development Division. Additionally, Hajerah also serves as the Chief Executive Officer of CS Capital (Private) Limited and as a non-executive director on the boards of Shakarganj Limited, Crescent Hadeed (Private) Limited.
Prior to joining Crescent Steel in 2012, she worked at Barclays Bank PLC Pakistan and has experience working in a Corporate Banking function with specialist focus on relationship management, business development, and transaction banking. Hajerah graduated in 2008 from the University of Kent, United Kingdom, with a Bachelor of Science with Honors in Economics, in 2008.
Her primary role at Crescent Steel includes managing portfolios of equity, commodity, and real estate investments. In addition to these responsibilities, Hajerah in her role as the Group Head of Corporate Affairs is responsible for Human Resource Management, Administration, Corporate Social Responsibility, and Communications functions across all divisions and business units of Crescent Steel.
Trained as a management professional with over 10 years of leadership and administrative experience, Ms. Hajerah Saleem has been instrumental in setting and achieving new goals for the organization and for her team, including the development and roll out of Core Values, the Corporate Responsibility Report, as well as strategic stakeholder engagement programs.
Back