Mr. Ismaila B Ceesay
Practice Manager (Governance Global Practice, South Asia Region) World Bank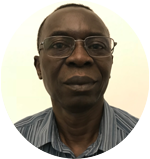 Ismaila B Ceesay is the World Bank's Practice Manager, Governance Global Practice, South Asia Region - focusing on Afghanistan and Pakistan. Prior to this, he has been a Lead Financial Management Specialist of the World Bank in the Governance Global Practice spanning for some eleven years and has worked in South Asia and Africa Regions at headquarter and country levels.
Ismaila is both a Fellow of ACCA and CIMA (UK). He also holds a Master's Degree in Business Administration (MBA-Finance) from the Institute of Financial Management (Manchester Business School and the University of Wales).
Prior to joining the World Bank, Ismaila served as Financial Analyst and Accountant of the Gambia National Investment Board, Managing Director of public enterprises in The Gambia (Livestock Marketing and Public Transport Corporation), Chairman of The Gambia Telecommunications Company Ltd., Gambia's Head of Mission to the EU, Director of Treasury, Accountant General, and Deputy Head of the Central Fiscal Authority in Timor-Leste under the auspices of the United Nations.
Back